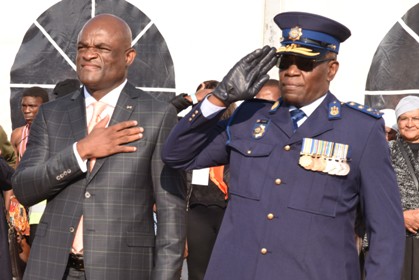 Madame Speaker and Deputy Speaker of the Northern Cape Provincial Legislature
The Judge President of the Northern Cape and Members of the Judiciary
The former Premiers of the Northern Cape and all former MECs and MPLs
Your Excellencies, Ambassadors, High Commissioners and Members of the Diplomatic Corps
Members of the National Assembly and National Council of Provinces
The Leadership of SALGA: Northern Cape
Mayors, Speakers and Councillors
Traditional Leaders
Leaders of Political Parties
Veterans of the Liberation Struggle
Faith-based Leaders
Leadership and representatives from the Alliance, the SACP, COSATU and SANCO
Veterans of the Struggle for Liberation
Representatives of Organized Labour
Representatives of Organized Business
Leaders of Institutions supporting our Constitutional Democracy
The Director-General, Advocate Justice Bekebeke and Officials of Government
The Head of the Police in the Province, General Tshivuri
Distinguished Guests
Ladies, Gentleman, Friends and Comrades from the Volunteer Corps of the African National Congress
The people of Lerato Park and the people of our beautiful Province of the Northern Cape
My special guest today is Mr. Ernest Allen Visagie, I met him during the election campaign on my door-to-door trail. Mr. Visagie is presently a residing in a home of persons living with disabilities in Cassandra. He got divorced, slipped into drugs and lost his employment. For the past four years he is completely clean of drugs. For me, this is an incredible story of courage that led to victory over adversity.
On behalf of the people of the Northern Cape, let me first take this opportunity to congratulate our President, comrade Cyril Matamela Ramaphosa on his election and inauguration as the 5th President of South Africa. Even the worst pessimists agree that he is the best suited candidate and most capable leader to successfully tackle the current challenges confronting our country. His presidency is a great promise for the country.
Speaker and Deputy Speaker
Once again let me thank the people of the Northern Cape for this rare privilege bestowed on me as the 5th Premier of this beautiful province of geographic contrasts. I am deeply humbled by the enormous task before me, grateful for the trust you have bestowed on me, mindful of the sacrifices and courage borne by our forebears.
I thank my predecessor comrade Sylvia Lucas for her service to our province and wish to congratulate her, in her new assignment as the Deputy Chairperson of the National Council of the Provinces. I want to thank her, for the cooperation and generosity she has shown throughout this transition.
Four Northern Capers have taken this oath as Premier of the Province before me. All of them worked very hard to make this province great. As we all understand greatness is never a given, it must be earned through hard-work and courage to change and discard things that do not work. This Inaugural Address is about that hard-work and courage which we need today. Hard-work and courage are the two key values that will define the work of this 6th Administration.
I commit here that I will be an activist Premier, who will always be amongst the people. I will spent less time absorbed in the comforts of the office and dwelling under the shade of self-adulation.
Madam Speaker, Ladies and Gentlemen
My biggest reward for this position of a Premier will be the happiness of the people of the Northern Cape, and particularly the poor and downtrodden. Starting today, we must pick ourselves up, dust ourselves off; and begin again the work that comrade Manne Dipico and his successors started, to make our province great.
Madam Speaker, Ladies and Gentlemen
I'm here to commit to this community and the people of the Northern Cape that this 6th Administration will provide practical and outside-the-box responses to the vast developmental challenges confronting the province. Amilcar Cabral's advise is very instructive in this regard 'Always bear in mind that the people are not fighting for ideas, for the things in anyone's head. They are fighting to win material benefits, to live better and in peace, to see their lives go forward, to guarantee the future of their children'. This advise by Amilcar Cabral beautifully sums up the vision of a Modern, Growing and Successful Province.
Madam Speaker
During my Acceptance Address last week I made a commitment that today I will elaborate on the attributes of a Modern, Growing and Successful Province; and that during the State of the Province Address (SOPA) on 27 June I will table the nuts and bolts of building such a province.
Since my Acceptance Address last week, many people in the province curiously engaged me on different platforms (twitter, facebook, etc) on what they perceive to be the main attributes of a Modern, Growing and Successful Province.
Madam Speaker, Ladies and Gentlemen
A Modern, Growing and Successful Province is one:
Which cares for the vulnerable and make life worth living for them, this would entail increased number of households with access to the grid, water and adequate sanitation.
Such a province is at the cutting-edge of the Fourth Industrial Revolution and prioritizes quality education, training and retraining of the youth.
Such a Province strives to improve the health profile of its residents.
It is a province whose youth have reasonable access to opportunities and prospects in life; and are allowed to dream.
Furthermore, Madam Speaker, ladies and gentlemen,
A Modern, Growing and Successful Province is one where our people, especially women and children, can freely enjoy their streets without fear of being molested or abused.
In such a province, people who are differently-abled or disabled are embraced and equitably given opportunities.
This is a province with a strong government that actively fights corruption and laziness.
It is a province that builds partnerships between the different sectors of society for shared growth and development.
The political leaders of this Modern, Successful and Growing Province are hard-working, they pay attention to detail, are incorruptible and shun self-indulgence on issues such as red carpets, blue-lights, security upgrades, State houses, etc.
Such a province, gives hope to the hopeless in a very a practical way.
St Augustine says that "Hope has two beautiful daughters, their names are Anger and Courage. Anger at the way things are; and Courage to see that they do not remain as they are". In our hope to build a Modern, Growing and Successful Province, we are angered by the living conditions of our people in Lerato Park and other similar areas in the province. However, this time around; we have the courage to ensure that things do not remain as they are.
Madam Speaker
It is this courage to build a Modern, Growing and Successful Province, that I instructed the Premier's Office and the Department of Public Works to sell the State House and direct the proceeds derived thereof to the Premier's Bursary Fund so that we can educate, train and retrain the youth of this Province. I also instructed them to identify and sell all other non-strategic assets and direct those proceeds to the same fund.
Madam Speaker
Tomorrow I will be announcing the members of the new cabinet, which will be smaller based on the new reconfigured departments. This announcement will not be followed by a shopping spree for new cars for MECs. Cars for MECs will be purchased on basis of absolute necessity and by the approval of the Premier. All unused monies budgeted for new cars for MECs must be directed to the Department of Health to augment the budget to purchase ambulances.
Madam Speaker, Ladies and Gentlemen
We can't, as elected leaders continue to indulge in luxury sedans and SUVs whilst our sickly people are struggling to access ambulances. Our work as this 6th Administration will be uncompromisingly people-centred and we are going to cut the extra fat to the bone. We are not here for blue lights and self-indulgence. All MECs to be appointed to this 6th Administration must understand that the opportunity to serve our people is an absolute honour, and not a stepladder to riches and fame. We are not royalty here, but ordinary and simple social and political activists.
Madam Speaker
This past Sunday I was here in Lerato Park. I had an opportunity to meet few young people, all of whom, were unemployed. Amongst them were five youngsters that have passed matric:
Tebogo Michael Sandlana,
Kevin Bernard Kock,
Gordelia Pule,
Cynthia Lorato Oliphant, and
Boipelo Elizabeth Mabote
In the spirit of Thuma Mina and giving practical responses in building a Modern, Growing and Success Province my office managed to secure R3 million which will be used for vocational and artisanal training of all unemployed young people that did Grade 12 here in Lerato Park.
Madam Speaker, Ladies and Gentlemen
This afternoon and tomorrow morning, together with volunteers we will comb this area, to identify all unemployed young people that did Grade 12 to enrol them in different training programmes from July this year. This programme will be jointly managed by the Premier's Bursary Fund and NCEDA.
Madam Speaker
In my Acceptance Speech I rendered a prayer, asking God that through His love, He must forgive us for our selfishness and for our arrogance, that he must help us to be a light that shines bright in a dark place, and that he must help us to be a bridge for somebody in need.
Today we have this Inaugural Address in one of the most under-developed communities in the Northern Cape. A community with great need and challenges for improved conditions of life. Here in Lerato Park our people are confronted with major socio-economic challenges. These are, indeed, people in need that we as elected representatives are expected to be the bridge for them in their journey for better life.
Madam Speaker
Again, as I have mentioned in my Acceptance Speech that I took a decision to bring this special and auspicious gathering to Lerato Park; for one purpose only, to drag everyone out of their comfort zones. We are hosting this event here today to pay tribute to all the families in the province that are experiencing similar hardships of informal settlements. These are communities such as Snake Park and Ivory Coast here in Kimberley, Nkandla in Phokwane; Promised Land, Obama Hills and Thuli Mandontsela in Kuruman; Sonder Water in Barkley West and many more.
My message to these communities, is that as the Northern Cape Government we heard your cries and as part of our programme to build a Modern, Growing and Successful Province we are going to prioritize you. Hence, I have already put up a team to investigate and assist the Provincial Government in establishing a State-owned Construction Company that will implement some of our infrastructure projects, particularly roads and RDP houses.
Madam Speaker
We must move very fast in our endeavours to de-tenderize this Provincial Government by increasing its planning, designing and implementation capacity of infrastructure projects. This will enable us to create more jobs and to curb corruption related to the state procurement processes.
Furthermore Madam Speaker, it is completely unacceptable that our departments cannot purchase basic necessities such as toilet papers and detergents, from local stores, but must go through some form of a tender process. There will be dedicated work to ensure that we de-tenderize the state in our effort to cut costs of rendering services to our people.
Madam Speaker
In our effort to de-tenderize the Provincial Government, we will also investigate and introduce phased in-sourcing of some support functions such as security guards, gardening, catering, cleaning services, maintenance of state buildings, etc. We must use the employment opportunities derived from these support functions to create decent work.
Madam Speaker, Ladies and Gentlemen
Work has already commenced to establish a War Room To Reduce Unemployment and a Northern Cape Growth and Investment Council. Both the War Room and the Investment Council will be chaired and convened by the Premier and will, amongst others, be constituted by experts, labour and business people. The Office of the Premier is already seized with the work of drafting the Terms of Reference for both structures.
For now, it suffices to mention that the primary focus of the Investment Council will be to ensure economic investment in Northern Cape, particularly in Kimberley. I cannot allow the continuing degeneration and deterioration of Kimberley, the capital town our Province. Kimberley must grow and develop and be a trigger for growth for the whole Province. So, we must develop Kimberley to serve as an epicentre of a Modern, Growing and Successful Province. This all starts with cleaning our city and encouraging our people not to litter.
Madam Speaker, Ladies and Gentlemen
A re phepafatseng motse wa rona, kom ons hou onse dorp skoon, masigcine idolophu yethu icocekile. Our dream of a Modern, Growing and Successful Province is about bringing a spark to Kimberley. I have arranged a meeting between my office, the Mayor, the Mayoral Committee and the Executive Management of Sol Plaatje Municipality to look into development plans of the city. I want to repeat it, I can't have our only city in the province collapsing and degenerating on my watch.
Madam Speaker
All these approaches call on all of us to drastically change the way we do things, a major paradigm shift. Senior Managers of this 6th Administration must be innovative, hard-working and be outside-the-box thinkers. If one cannot change and adapt, the best option is to ship out. There will be no top-down approach to rendering of services, our communities must be engaged, not as a mere formality but to genuinely get their inputs, to give practical meaning to our commitment for participatory democracy.
Madam Speaker
In our work to create a modern economy to serve our people better, we must ensure that we use and manage State resources in a prudent manner that is consistent with the needs of the 4th Industrial Revolution. We need to develop a solid industrial base in the province premised on mining and agriculture. Through our investment arm, which is NCEDA, this 6th administration will vigorously pursue the possibilities of establishing a Northern Cape State Mining Company that will, on behalf of the people of the Northern Cape, do prospecting, make applications for mining licenses and later galvanize investments.
Madam Speaker
Moaning and whining about us in the province not deriving much substantive benefits from the vast mineral deposits will not change the fact that Northern Cape is viewed as an extraction centre for raw products. We need to radically change this paradigm through the establishment of Northern Cape mining company.
Tourism economy is one sector we should vigorously pursue and ensure that we establish Small, Medium and Micro Enterprises (SMME's) in this sector. In support of the SMME sector the payment of invoices by government should be done promptly. Over the past years the province has not benefited much from sports tourism. Whist it is important to give support to all the sporting codes, we need to investigate and work towards having a Premier Soccer League team in the province.
Madam Speaker
This has a great potential to expose the province to the big fanbase that is always prepared to follow their teams throughout the country. More importantly, is the fact that soccer is like a staple diet in the Northern Cape, with each town, even the smallest, having a number of local soccer teams. We should vigorously mobilize the private sector behind this objective. We should harness the rich local talent and create opportunities for our young people.
Madam Speaker
Over the years our municipalities have proved to be the weakest link in our chain for development and social transformation. We intend to convene a local government summit towards the end of this year with the express aim of addressing the challenges that confront our municipalities and chart a way forward in dealing with these. The challenges include:
The sustainability of municipalities,
Implementation of the indigent program,
Improvement of service infrastructure,
The lack of technical capacity, and many more.
Of great concern are municipalities that have not been spending grants allocated to them to address the social infrastructure backlogs, such as Municipal Infrastructure Grant (MIG), Integrated National Electrification Programme (INEP) and Neighbourhood Development Partnership Grant (NDPG). On this matter, I requested a report from the Department of Cooperative Governance, Human Settlement and Traditional Affairs. There should be severe consequences for the failure to spend monies that are meant for development of our communities.
This 6th Administration will spare no energy to ensure that additional resources are mobilised towards the realisation of the new urban agenda by our municipalities.
Madam Speaker, Ladies and Gentlemen
We spend more than 60% of our provincial budget on education and health. I must be very frank to this Honourable house, that I am completely not impressed with our performance on these two fronts.
As an activist Premier, I requested my office to purchase cheap office furniture to create a Premier's Work Corner at the reception area of the Provincial Office of the Department of Education and at the casualty area at Robert Sobukwe Hospital Complex. From next week I will move out of the comfort of the Premier's Office and spend one day or two days in a week working from the reception area in the Department of Education and the casualty area at Robert Sobukwe Hospital Complex.
Despite the difficulties, we are going to get our education system on track, and be amongst the best performing provinces in the country. We are going to improve the performance of the Department of Health and give dignity to our patients. My seriousness to build a Modern, Growing and Successful Province will be demonstrated tomorrow with the calibre of the MECs that will be appointed to these two departments. It will be MECs with courage, norm-breakers, astute and hardworking.

Madam Speaker, Ladies and Gentlemen
Allow me to conclude my address with a beautiful poem by Ralph Waldo Emmerson, titled COURAGE:
Whatever course you decide upon
There is always someone to tell you
that you are wrong, it is impossible
There will always be difficulties
That will tempt you to believe
Your critics are right
To map out a course of action
And follow it to the end
Requires of the same courage
That a soldier needs
So, to all the people of the Northern Cape who are listening today, from the most beautiful urban centres, to the poorest villages and informal settlements; know that today the courageous battle against the monster of poverty, unemployment and inequality has begun. And I can assure you, that this journey for a Modern, Growing and Successful Province will not be one of shortcuts or settling for less.
The scale of socio-economic challenges confronting this province scares me; however, the real hero is the man who fights courageously even though he is scared. We must with courage, carefully carry this great gift of freedom and deliver it safely to the future generations.
I thank you, God bless.