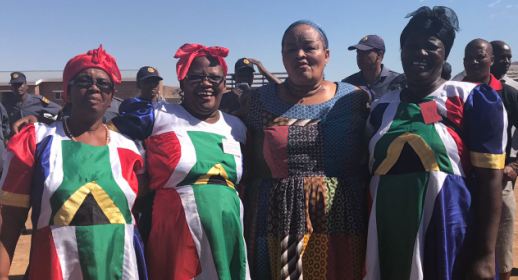 Program Direkteur
Agbare Lede van die Uitvoerende Komittee
Agbare Burgermeester en Raadslede
Dames en Here
Gemeenskap van Riemvasmaak
Good Morning , Goeie More
Dit is vandag vir my n besonderse voorreg om saam met hierdie gemeenskap Vryheidsdag te vier op hierdie geskiedkundige dag. Hierdie is vir my die dag in ons demokratiese regering wat die grootste betekenis dra omdat dit gelei het tot die vry, nie rassige, nie seksistiese demokrasie wat ons vandag het.
As ons na die definisie van Vryheid sou kyk dan is dit die mag of reg om op te tree, te praat, of te dink soos jy wil sonder hindernis of selfbeheersing.
Vryheid het mag. Dit is 'n geskenk. 'N skat wat moet bewaar word. Die belangrikste, merkwaardigste geskenke in die lewe is altyd die moeite werd om te veg. En dikwels kom dit met 'n goeie prys. Dit is soos ek alreeds gesê het, nie gratis nie. Iewers moes iemand baie duur betaal het vir die vryhede wat ons vandag so vrylik geniet. Maar dikwels vergeet ons. Dit is maklik om dit as vanselfsprekend te aanvaar. Ons is dalk nie eens bewus van hoeveel mans en vroue duur betaal het vir die geskenke wat ons vandag geniet nie maar wat ons altyd moet onthou dat die prys vir ons vryheid deur baie lang jare betaal.
In ons land is die 27ste April die jaarlikse viering van Suid-Afrika se eerste nie-rassige demokratiese verkiesings in 1994 wat die vestiging van 'n nuwe demokratiese regering onder leiding van Nelson Mandela en 'n nuwe staat onderworpe aan 'n nuwe Grondwet bepaal het.
Die hou van die eerste nie-rassige verkiesings was die hoogtepunt van jare van stryd en 'n onderhandelde skikking wat gelei het tot die bevryding van organisasies wat voorheen verban was. Ons mense wat in die buiteland was kan terugkeer en dit alles het on op die pad van demokrasie en versoening geplaas.
Ladies and gentlemen
South Africa's first democratic national elections in 1994 election paved the way towards a new democratic dispensation and a new Constitution for the country. On the first anniversary of the new South Africa, Mandela said: "As dawn ushered in this day, the 27th of April, 1995, few of us could suppress the welling of emotion, as we were reminded of the terrible past from which we come as a nation; the great possibilities that we now have, and the bright future that beckons us.
"Wherever South Africans are across the globe, our hearts beat as one, as we renew our common loyalty to our country and our commitment to its future. The birth of our South African nation has, like any other, passed through a long and often painful process. The ultimate goal of a better life has yet to be realised. On this day, you, the people, took your destiny into your own hands. You decided that nothing would prevent you from exercising your hard-won right to elect a government of your choice. Your patience, your discipline, your single-minded purposefulness have become a legend throughout the world."?
Sedert 1994 het die ANC-Regering probeer om die ongeregtighede van die verlede reg te stel. Ten spite van al die opofferings en vordering word ons egter nog steeds gekonfronteer met baie uitdagings soos misdaad, armoede, werkloosheid, rassisme en seksisme. Vryheidsdag gee ons die geleentheid om 'n belofte te maak om te veg teen die nalatenskap van rassisme en ekonomiese ongelykheid, asook om ons lojaliteit aan die land te vernuwe sowel as ons toewyding tot 'n voorspoedige toekoms.
This year we celebrate Freedom Day under the theme, "The Year of Oliver Reginald Tambo: Unite for Radical Socio-economic Transformation." This is because this year coincides with the centenary of struggle for liberation, which represents us with an opportunity to reflect on the many sacrifices that were made for the freedom we enjoy today and on how South Africa`s democracy was achieved. Tambo was steadfast in his revolve for a liberated South Africa. While in exile he rallied the global community against the oppressive apartheid state and spearheaded international sanctions to bring about change. In his labour for the country's political freedom, he advocated that without the accompanying economic emancipation of millions of South Africans, our hard fought liberty would have little meaning.
Dit is juis om hierdie rede dat ons Staatspresident, Mnr Jacob Zuma, hierdie jaar tydens sy Staatsrede die regering weereens verbind het om die tempo van ekonomiese transformasie te versnel sodat meer Suid-Afrikaners sal baat vind by die vrugte van ons vryheid.
Hierdie jaar moet ons ons ook opnuut verbind aan ons land se Grondwet wat die fundament van ons demokrasie is en die en die kern van wat vryheid beteken. Die "preamble" van die Grondwet verwys na 'n demokratiese en oop samelewing waarin die regering gegrond is op die wil van die mense en elke burger word gelyk deur die wet beskerm. Die Handves van Regte bevestig dat almal igebore is met waardigheid en die reg moet geniet dat hul waardigheid respekteer en beskerm word.
Dames en Here
Ek het nou aan u 'n geskiedkundige oorsig gegee oor waar ons Vryheid ontstaan het, maar ek wil tog ek wil ook vra dat ons moet ernstig besin oor wat hierdie vryheid vir ons beteken en ook ten watter prys ons dit bekom het. Ons het in 'n redelike kort tyd gebou aan nie net ons demokrasie nie, maar ook aan ons land en die welstand van ons mense. Ons het vermag wat nog nèrens in die wèreld vermag is nie. Ons het dienste gelewer wat nog nèrens op ons vasteland ge ewenaar kon word nie. Ons het dit gedoen deur saam te werk en saam te bou. As ons verskille het, laat ons dit vreedsaam oplos. Moet asseblief nie afbreek en afbrand wat aan u behoort nie. Ons kon nog altyd ons verskille op n vreedsame manier oplos en my versoek is dat ons praat en saamwerk en nie afbreek en afbrand. Saam sal ons verandering en voorspoed bring.
Ons het uit die as van apartheid opgestaan en staan vandag trots op die wêreld verhoog, ons stem en teenwoordigheid dra ook die nodige gesag by instellings soos die Verenigde Nasies en die Afrika Unie. Ons het nie toegelaat dat ons verdeelde verlede ons toekoms vorm nie. Saam het ons 'n nuwe samelewing gebou wat basseer is op die waardes van 'n verenigde, nie-rassige, nie-seksistiese en demokratiese Suid-Afrika gebou is.
Ons oë bly gerig op ons mikpunt om 'n beter lewe vir alle Suid-Afrikaners te bou. Ons bou op die stewige fondamente wat ons sover gebou het en ons vernaamste uitdaging is om armoede uit te wis en ongelykheid te verminder. Ons moet ook meer doen om te seker te maak dat meer mense voordeel trek uit die vrugte van ons demokrasie sodat hulle lewens vir die beter.
Hierdie Regering het 'n plan en hierdie ANC Regering is die enigste een wat 'n visie en 'n oortuiging het om die lewens van ons mense te verbeter. Die Nasionale Ontwikkelingsplan, ons lang termyn padkaart vir ekonomiese ontwikkeling en werkskepping sal dit moontlik maak vir ons om te strewe om 'n samelewing te bou soos die Grondwet en die Vryheidsmanifes voorskryf. Elkeen van ons het 'n rol om te speel om seker te maak dat ons Vryheid en demokrasie bewaar word. Dit is ons gesamentlike verantwoordelikheid om voort te bou 'n sterk welvarende nasie.
Ter afsluiting, dames en here wil ek net 'n beroep doen, dat ons op hierdie historiese herdenking sal onthou wat dit werklik is om vry te wees. Laat ons op hierdie dag ons weereens verbind tot konsiliasie en nasiebou. Laat ons op hierdie dag weer die gees van Ubuntu herlewe en toepas in ons lewe. Laat ons vry wees en laat ons ander se Vryheid en waardigheid en menswees respekteer en vier.
Met die Vryheid wat ons geniet kom ook verantwoordelikheid en waardes. En daarom is dit belangrik dat ek noem dat die Vryheid om te praat, doen en op te tree binne morele en wetlike perke toegelaat word. Mense soos Ayanda Dluli wat kuns gebruik onder die vaandel van Vryheid van spraak om aanstootlike portrette te verf om wie weet waste stelling te maak misbruik hierdie Vryheid waarvoor met bloed en sweet betaal is. Ons verwerp ten sterkste die aanval op die karakters van ons vryheidsvegters en ek doen 'n beroep dat ons nie hierdie Vryheid misbruik om donker en duister agendas te bevorder nie.
Die 27ste April sal altyd 'n dag wees om te onthou. Dit is 'n dag om voor dankbaar te wees. Dit is 'n dag om dankie te sê vir diegene wat voor ons gegaan het. Vir diegene wat ons volk vandag beskerm en dien.
Laat ons saam werk en ons Vryheid beskerm en sodoende armoede, rasse ongelykhede en sosio - ekonomiese ongelykhede uit wis. Saam kan ons verseker da tons 'n beter en vredevolle Suid Afrika aan ons nageslagte laat.
Ek dank u.