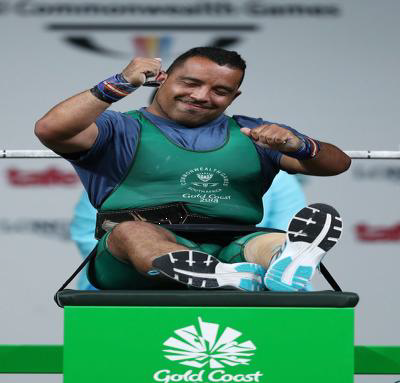 Ricardo Fitzpatrick has set the bar high after being ranked top Para Powerlifter in Africa and fourth in world rankings following his recent participation at the 2018 Gold Coast Commonwealth Games.
Born and bred in Roodepan, Kimberley the 37 year old has strived for success in all his endeavours even in the face of adversity. "It is really an honour being ranked first on the continent. And to be ranked fourth in the world is a remarkable and amazing achievement," says Fitzpatrick.
Despite being infected with gangrene during birth and a little chance at a long and healthy life, Fitzpatrick has defied the odds when he started participating in various sports activities including wheelchair basketball, table tennis and swimming and excelling in each one. In 2002 he received his national colours in powerlifting and represented South Africa at the World Bench-press Championships in Luxembourg. He has gone on to participate in various world championships, with numerous titles under his belt.
Not only is he dedicated to his career as a Network Controller, Fitzpatrick admits that challenges exist in balancing a full time job at the Northern Cape Office of the Premier (OTP), preparing for his love of powerlifting and family life but says all are equally rewarding. He acknowledges the OTP staff and management for their support and understanding while he juggles it all.
His best personal achievement was winning gold at the Arnold Classic Africa Powerlifting and Bench Press Championship in 2016 where he set a new South African Record of 83kg for men. He has achieved major titles as a powerllifter including being awarded the 2004 Gauteng World Champion, 2011 Commonwealth Bench Press Champion, 2016 African Bench Press Champion and the 2017 Commonwealth Bench Press Champion. He is a nine time South African Para Powerlifting champion and a three time South African Classic Bench Press champion for able bodies.
Fitzpatrick continues to represent the Northern Cape and the continent at large at world renowned sporting events. He is preparing for the 2020 Tokyo Paralympic Games and would love to bring home the gold. He encourages those who have talents to follow them despite naysayers, "Dont stay too long in your comfort zone but pursue your talents that will make you happy, no matter what people say."