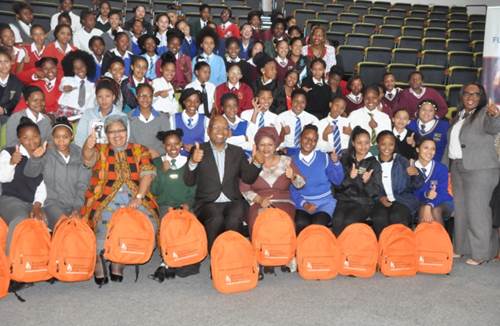 The Premier of the Northern Cape, Ms Sylvia Lucas in partnership with the National Empowerment Fund and other stakeholders hosted the "Take a girl child to work" event at the Mittah Seperepere Convention Centre (MSCC) on 24 May 2018 in Kimberley. This is an annual campaign under the theme "dream, believe and achieve."
The project carries the endorsement of the Department of Education and finds its most avid support from the Office of the Presidency wherein girls have been hosted yearly since its inaugural event.
This year 80 students across the Province were gathering at the MSCC to celebrate this event. The children were addressed by various speakers including the Deputy Director General in the Premier's Office, Ms Gugulethu Matloapane who encouraged the students to choose their careers carefully and take pride in their prospects.
Premier Lucas says that without the girl child there is no future. Furthermore she said the annual event confirms government's commitment to exposing young women to different career paths and opportunities made available by government.
The 'Take a girl child to work' reaffirms government's priority in promoting education and participation of girls in the economy and labour market, and guiding girls in contributing to communities after their formal education.