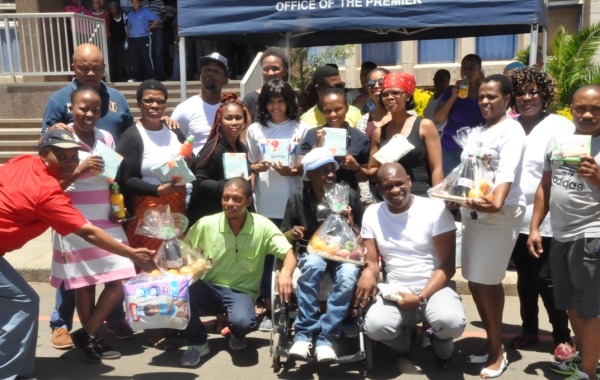 On the 3rd November 2016, Premier Sylvia Lucas launched the Disability Rights Awareness month programme, under the theme: "Persons with Disabilities enabled to participate equally in shaping a sustainable future".
The objectives of the programme includes, but is not limited to:
Inspire hope and confidence amongst the disabled.
Mobilise persons with disabilities
Reach out to all diverse groupings in the sector
As well as to accelerate the implementation of The White Paper on the Rights of the Persons with Disabilities.
The programme includes many different activities that help to raise awareness on how society can help to protect, defend, respect and uphold the rights of persons with disabilities.
Part of such activities was the 'NAPPY RUN', hosted by the Office of the Premier on Friday. The aim was to collect nappies from colleagues in the office, to donate to facilities where disabled people are treated and or staying. The office further engaged with private sector to make donations in this regard, so that the whole of society can play a role in protecting the dignity of both young and old people who are leaving with a disability.
Our heartfelt gratitude go out to all the colleagues who have so generously donated nappies, and we are encouraging others to continue to make donations in this regard, and we are invited other citizens of our province to join us in this campaign by making a donation of nappies at the Premier's Office. Let us all hold hands and give support to the disabled people to enable them to participate equally in shaping a sustainable future.
Other programme will continue until the 03 December 2016, when we shall be observing the International Day of Persons with Disabilities.
Issued by: Communications Unit
                 Office of the Premier Northern Cape