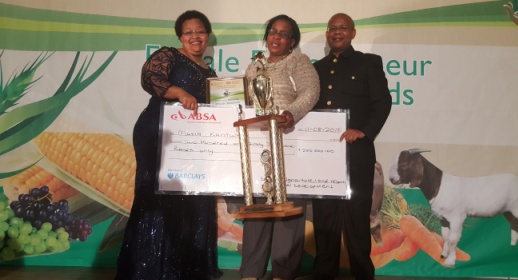 Programme Director, Mr. Johny Mackay
Colleagues in the Executive Council
Members of the Provincial Legislature
Local Government representatives
Organised Agriculture
Ladies and Gentlemen
Comrades and Friends
I am honoured to address you during the month of August, a month in which we as a nation commemorate the gallant revolutionary struggle of the women of 1956 who braved the circumstances of the day by marching to Pretoria in protest of the inclusion of women in pass laws that controlled the movement of Africans. This year marks the 60th anniversary of that momentous occasion where women boldly declared that today we have had enough. With one voice they rose up and openly and loudly declared their disgust and resistance to an unjust and humiliating system of segregation.
As a country and as a Government, we remain steadfast that the role of women in society is clear and can never be underestimated or underplayed. This is because women remain the bedrock upon which the family is built. Women are not only nurturers, but in many instances, providers of their families. Women today have shown that they are also the greatest supporters of democracy with IEC Statistics showing in the recent local government elections, of the 26.33 million voters registered to vote, 55% were women.
It is therefore befitting that whilst we celebrate those heroines of our liberation struggle; we also honour the phenomenal women who daily, under very difficult and often trying circumstances, work the land to ensure they provide food for their families and communities. This year these awards are held under the theme "Reaffirming the commitment towards women empowerment in the Agriculture, Forestry and Fisheries sector".
Program Direkteur, dames en here, die skakel tussen vroue en Landbou is van kardinale belang, aangesien Landbou steeds die ruggraat van ons ekonomie is en vroue die hoeksteen is waarop die families gestruktueer is. Landbou bly dus 'n belangrike sektor vir werkskepping in ons Provinsie. Deur Landbou is ons in staat om voedselsekuriteit te verseker vir ons families en gemeenskappe en sodoende verseker ons dat geen kind honger gaan slaap nie. Dit is ook deur Landbou wat ons in staat is om die driedubbele uitdagings van werkloosheid, armoede en die groeiende ongelykheid onder ons mense en onder mans en vroue aan te pak .
Program Direkteur, daarom behoort vanaand aan hierdie briljante en moedige vroue wat dit gewaag het in 'n gebied wat vir baie jare, die eksklusiewe terrein van mans was. Hulle het hulself verlos van die kettings van klein skaalse en oorlewings- produksie en het daarmee hul regmatige plek in die hoofstroom van landbou en die ekonomie geneem.
Ladies and gentlemen, combined with other agricultural initiatives, the Female Entrepreneur awards have the potential to reverse the current status of women in the country's agricultural sector and in society at large. With initiatives such as the ones we are honouring tonight we can and will make absolute strides in alleviating poverty and to stimulate further economic development.
The women we are honouring tonight have given practical meaning to the ideals that those brave women activists of our country such as Bertha Gxowa, Lilian Ngoyi, Rahima Moosa and Helen Joseph stood for. These are the ideals of equality and women empowerment.
Ladies and gentlemen, we meet at a time when as a Province are feeling the impact of the global recession. The impact on the mining sector has left a ripple effect that is felt throughout the major sectors of the economy. The result now is that men are leaving home in search of economic opportunities, leaving women behind to fend for their families.
This underscores the importance of empowering women economically. The ceremony tonight seeks to acknowledge the contribution you as women are making by supplying either your community or specific markets with agricultural produce.
While climate change and natural disasters affect everyone, women and girls bear the heaviest burden because of structural issues, which still include to a degree unequal access to credit, land ownership and decision making. As the general providers of food, water and fuel for families, changes in the climate impacts on you the women directly. You as our female entrepreneurs have proved that beside all these factors you were still able to persevere and make a success of your enterprise.
Tonight I thus wish to challenge you to empower other women and especially our girl children to take up the challenge of science and agriculture in particular as we move into the era where climate change will be the reality and working with nature will be the order of the day.
You as winners of these awards should regard yourselves as active agents of change and exercise the boldness of the women of 1956 in present day society by encouraging others to enter the agricultural environment and participate in the sector. I herewith wish to encourage you to learn to build partnerships and networks in order to promote and expand what you have achieved already. A simple gesture of encouraging others to establish backyard gardens can assist with poverty alleviation and food security.
Programme Director, today, 22 years on, the struggle for our women has shifted towards the creation of a better life within society and to ensure their economic emancipation and participation in the mainstream economy within the agricultural sector. Women want to be part of the second phase of the radical transformation of our society which will see them play a meaningful role within the agricultural sector.
We need to transcend the barriers which put women only as suppliers of labour within the sector but we must develop them into active contributors to the sector. Agriculture is about all the agricultural input, provision, farming, processing and distribution activities that add value to agricultural activities. Our awards this evening seeks to recognise all the role players within the sector. We also recognise the significant role played by farm workers, who are the mainstay of any agricultural activity.
Women make an important contribution to mainly rural and agricultural economies in most of the developing countries. I am therefore greatly pleased that this year 46 female farmers entered the competition. The winners will represent the Province at the National Awards Ceremony which will be held in Limpopo later this month. Some of the participants have graduated from subsistence to smallholder and from smallholder to commercial.
Program direkteur, vanaand kan ons trots staan want vir die afgelope vier agtereenvolgende jare het die Provinsie nasionale wenners in die uitvoer, nasionale markte , beste vroulike en jong vroue entrpreneur kategorieë opgelewer wat 'n totaal van nege nasionale toekennings vir die provinsie sedert die aanvang van die kompetisie in 1999 beteken. In die provinsie het die kompetisie 101 wenners sowel as naaswenners sedert 2004 tot nou toe opgelewer.
Programme director, to this end a total of 250 female farmers received support through the Comprehensive Agricultural Support Programme and Ilima/Letsema. About 11 female farmers currently own farms through the Proactive Land Acquisition Strategy (PLAS) from Rural Development and Land Reform, while others are still placed on land reforms farms and commonages. The process for acquiring farms for other female farmers is still underway in collaboration with the department of Rural Development and Land Reform.
Since the inception of the awards; female farmers have also received support through the Revitalization of Irrigation Schemes, Livestock Improvement Programme (LIP), Fetsa Tlala Food Production Programme, MAFISAand the Vineyard Development Programme. I think we can agree that this ANC-led Government has shown leadership in empowering our female farmers through the creation of jobs, job opportunities and generally giving them their dignity by becoming self-sufficient.
We remain committed to strengthening our institutional capacity in order to give prominence to the role of women, working together with organised agriculture, both commercial and small holder farmers.
As we gather here to recognise the role that is played by women in the whole agricultural value chain and award them with these prizes, we wish to at the same time encourage the winners to reinvest the money into their ventures in order to grow their enterprises.
Previous awards presented women with an opportunity to plough back to their projects through procurement of livestock, as well as production to augment the assistance from the department. Some of the female farmers took their kids to tertiary institutions with the prize money while others increased production to their existing production. Some of the farmers bought machinery and production inputs for their projects.
As I conclude, I want to congratulate all the entrants to this competition because in my mind you are all winners. Those that will not be named as prize winners today should thus not despair. You have demonstrated the determination and will to succeed. We as Government through the department of Agriculture and Land Reform, will ensure that our officials and extension officers provide the requisite training and support to ensure that you grow your enterprises.
This is but one of the ways we can ensure the continued provision of food security to our people and development of rural enterprises. Women always show their mettle and continue to deliver on their formal and informal job responsibilities whilst excelling in their gender roles of being mothers, wives and partners.
To all our women participants, let me say to all the women in Agriculture, thank you for your meaningful contribution towards job creation, inclusive economic growth and food security. To the winners, may these awards spur you on to greater heights.
Allow me to leave you with the words of our former late President, Tata Madiba, who stated that, "Freedom cannot be achieved unless the women have been emancipated from all forms of oppression". Let this remain our guiding light as we count on your efforts to help us move this beautiful Province forward through sustainable food production.
MALIBONGWE
KE A LEBOGA
BAIE DANKIE
THANK YOU