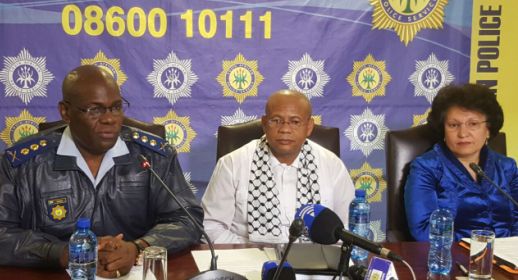 The annual release of the crime stats indicates if we are on the right path, where we need to improve and work harder to ensure that we protect and serve our people to the best of our abilities.
This was the statement made by the Acting Premier of the Northern Cape MEC Norman Shushu while briefing the media on the Provincial Crime Stats alongside MEC for Transport, Safety and Liaison Ms Pauline Williams and SAPS' Provincial Commissioner Lt General Peter Shivuri in Kimberley today on the Crime Statistics: Overview 1 April 2015-31 March 2016.
He said, crime does not only impact on the safety and wellbeing of our people but poses a serious threat to the economic development of the Province as a whole.
The statistics are from the 91 stations with the new five clusters with Provincial Government demarcation with about 7 250 police members.
In his reflection of the stats, Shushu said the province reported 50 251 priority crimes for the financial period 2015/2016 which reflected an overall increase of 1.5% which translates to an increase of 733 cases compared to the previous financial year.
He said, in the previous financial year 2014/2015 the province reported 49 518 priority crimes and that reflected an increase of 2.1%, an increase of 1266 cases, compared to the previous financial year 2013/2014 with 48 525 priority crimes. This marginal increase for the last financial year 2015/2016 indicates that the crime in the province is on a stabilizing trend.
He further added that firearms (such as pistols, revolvers, high calibre firearms and shotguns) were used as instruments in 1.88% of the total contact crimes. Pistols and Revolvers were used in 1.71% of the registered cases and high calibre firearms/shotguns were used in 0.17% of the registered cases.
Shushu said, financial gain, greed and drug dependency contribute towards Property Related crimes.
He said whilst the Province welcome the economic growth of the Province, it also comes with a negative spinoff in terms of crime and general criminal behaviour. He explained that the influx of people into certain areas due to economic expansions such as agriculture, mining and solar parks also have an impact on the priority crimes. The increase of crime can be seen in the Kakamas, Kathu, Postmasburg, Upington and De Aar clusters, where the development is taking place.
Reflecting on collaborative interventions, MEC Williams said for the Province to change the picture above together with the SAPS: there will be a robust implementation plan with guardians of senior officials to turn around the 24 challenged stations in the Province and re-enlist more retired (but qualifying) police men beyond the 67 that were just appointed at the beginning of this month.
She further added that the province will need to complete feasibility studies for more Police stations and Mobile stations; post more constables with additional 315 in the coming months beyond the 217 we just posted at the begging of this month and finalize the almost complete new senior team. She also congratulated all-new appointees who are present at the press conference.
We will launch the "Creating safer communities for our children" into other regions where we remove unused appliances from our communities that threaten the lives of our children and act as breeding grounds for criminal as it was launched in Kakamas.
"We will also host the Crime Prevention Summit to map a way forward in fighting crime. So far, 100 bicycles have already been received for distribution and we have 346 reservists to aid with visible policing."
"I urge you all to work together with the SAPS in exposing criminal elements in our communities so that we can all enjoy safer communities while we as government will continue to increase and drive our various Crime Prevention Programmes and awareness campaigns in communities," said Williams.
"I must say, the fluctuating crime stats are a reflection on us as communities. I must highlight that alcohol and drug abuse remains a crucial matter that needs to be curbed in our communities as it is one of the major contributing factors in crimes."
Williams said, it is only in working together with our SAPS and allowing them to do their job that we can continue to see perpetrators face the full might of the law.
"As much as I urge members of the community to work with the SAPS we need more visibility. As the leading crime fighting agent in the Province, I want to see more visibility from our SAPS and resources being used effectively and efficiently in fighting crime and safe-keeping communities."
As a department, our Crime Prevention Unit will continue to play its part in engaging communities on awareness programmes, establishing Community Police Forums, raising substance abuse awareness and giving support where possible.
Commending collaborative efforts, she further said, "I must also commend community based organisations, NGOs, community crime-fighting group Wanya Tsotsi and various institutions involved in crime fighting initiatives."
I also want to use this platform to thank the men and women in uniform who continue to put their lives on the line in keeping us safe and ridding our communities of criminal element that destroy our communities.
Thank you to your families and loved ones who continue to watch you go to work while some wonder if you will come back unharmed. I want to take this moment and pay tribute to the men and women who lost their lives in the line of duty and say to their loved ones, their contribution does not go unnoticed.