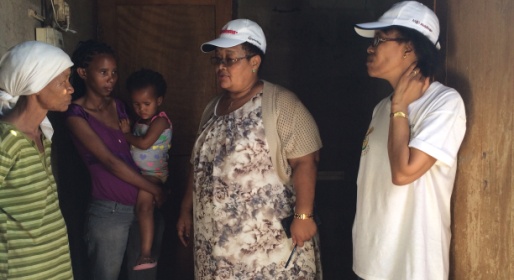 The Executive Council of the Northern Cape Provincial Government under the stewardship of Premier Sylvia Lucas conducted an outreach programme to the Namakwa District from 27 October 2015 till 29 October 2015.
The Executive Council was accompanied by the Executive Mayor of the Namakwa District, local mayors and councilors and senior government officials that include Deputy Director General for Institutional Development in the Office of the Premier, Heads of Departments and Senior managers in departments.
The Executive Outreach programme is the flagship community outreach programme for the provincial government for the past 21 years, this allows the political leadership to direct interact with the public and communities and provide instant relieve to issues raised by the community or individuals. Premier Lucas used this opportunity to introduces the Executive Council to the communities
During the outreach to Namakwa Premier Lucas committed to assist a young lady from Kuboes in the Rigtersveld municipal area to complete her studies in the nursing field. Premier Lucas said that provincial government is encouraging young people in rural areas to engage provincial government to access opportunities in the medical fields so that they can assist with addressing the shortage of nurses and doctors in rural areas.  Premier also strongly articulated the position of provincial government to provide housing to elderly people in the province during the community meeting in Kuboes.
All of the towns that the Executive Council visited that include Kuboes, Sandift, Paulshoek, Nourivier and Onseepkans are connected with gravel roads from the major towns, the conditions of the gravel roads was raised by communities during the household visits and community meetings and Premier Lucas committed that provincial government will ensure that gravel roads will be upgraded will funding is sourced to construct tare roads in this areas
The triple challenge of inequality, unemployment and poverty was among the issues raised by the community and equally so they expressed appreciation for the work done by government to alleviate the plight of the poor with initiatives like Expanded Public Works Programme (EPWP) and the Community Works Programme(CWP)
The Executive Council was also accompanied by the Provincial Commissioner of Police Gen Shuvuri , and senior management of the SAPS in the province. The SAPS committed to address the issues of crime, shortage of human resource and police vehicles as raised by communities.
The Northern Cape Provincial Government is a caring government