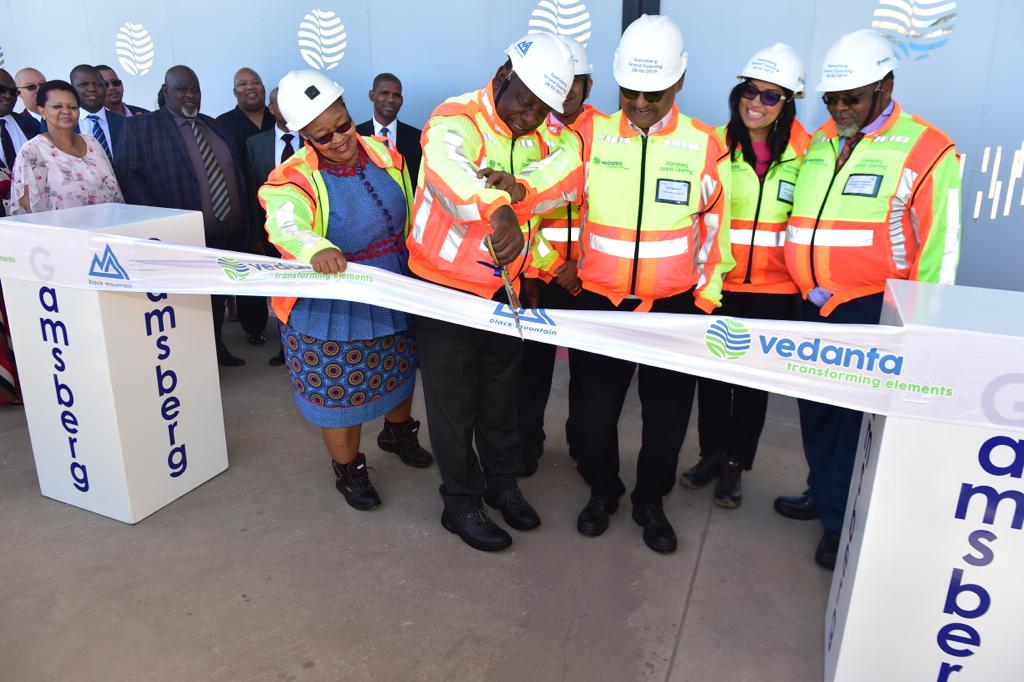 Programme Director,
Minister of Mineral Resources, Mr Gwede Mantashe,
Ministers and Deputy Ministers,
Premier of the Northern Cape, Ms Sylvia Lucas,
Chairman of Vedanta Resources, Mr Anil Agarwal,
CEO of Vedanta Resources, Mr Srinivasan Venkatakrishnan (Venkat),
CEO of Vedanta Zinc International, Ms Deshnee Naidoo,
Members of the Board and Executive Management of Vedanta,
Religious and traditional leaders,
Community members,
Distinguished guests,
Ladies and gentlemen,
It is a great honour to be present at the official opening of this mine, which is a milestone in the economic development of the Northern Cape and the country.
It is an honour to be among a diversity of people who are contributing in different ways to a better future for all our people.
The presence here of a significant global investor, of government leaders and officials and of leaders and members of communities gives meaning to our call that we should all participate and work together to grow South Africa together.
The Vedanta Gamsberg project is an important step in our shared journey to revive our mining industry.
It confirms our view that with an effective regulatory framework, improved collaboration between all stakeholders and sustained investment, mining has the potential to be a sunrise industry.
South Africa has vast undeveloped mineral deposits that we have the opportunity to exploit for the benefit of all the people of this country.
We welcome this substantial investment by Vedanta, which not only deepens South Africa's relationship with India but also signals Vedanta's confidence in the future of South Africa's mining industry.
We welcome Vedanta as a partner that is committed to help us achieve our development goals in a manner that is sustainable, transformative and inclusive.
And we pay tribute to the people and leadership of this region who joined hands with Vedanta to secure a better future for all.
To the people of Namaqualand we say thank you for investing your talent and skills in making this project a success.
It is through your efforts that you will reverse the legacy of unemployment and inequality.
Twenty-five years into our democracy, we have made important strides in transforming the mining industry.
We have sought to achieve this through the development and implementation of progressive legislation and policies.
Progress has been uneven and there is still a long road ahead.
However, as the consultations on the newly-revised Mining Charter demonstrate, there is a sincere commitment from all stakeholders to the growth of this industry through renewed exploration and greater investment, and, simultaneously, to its fundamental transformation.
The Mining Charter provides a credible roadmap to a developing, thriving and transforming industry.
The finalisation of the Mining Charter has brought about far greater certainty and stability, a necessary condition for investment on the scale that we seek.
We are confident that we will see more mining projects of this magnitude as many more investors, like Vedanta, see the great potential not only in mining, but also across the South African economy.
The annual Mining Indaba, which was held earlier this month, demonstrated the high level of interest shown by investors in our country and in the continent as a whole.
We are keen to work with the industry to improve the investment climate and improve the ease with which mining companies do business in our country.
Vedanta Resources was one of the companies that heeded our call during the inaugural South Africa Investment Conference in October last year to partner with us as we pursue higher levels of inclusive growth and employment.
We are here to say 'thank you' to Vedanta for the enthusiasm with which you have embraced our ambitious investment drive.
It is gratifying to see the commitments made at the Investment Conference taking form and shape across our country.
This area of the Northern Cape hosts significant deposits of lead-zinc ores associated with copper and silver.
It is also home to manganese, iron ore and diamonds.
And yet, this province remains underdeveloped.
It contributes just 2% of South Africa's GDP and has an expanded unemployment rate of around 39%.
Mining offers an opportunity to fundamentally change this.
Johannesburg as the world knows it today was built on the back of mining – and it is through mining that industries such as manufacturing and finance developed in what is now Gauteng.
While development in the Northern Cape is hampered by the great distances between economic centres – and mining operations – there is nevertheless great opportunity for mining to be a catalyst for broader economic expansion.
Beneficiation of minerals can play a huge role in this.
We must therefore move away from the "pit to port approach" where resources mined here are transported out of the country as raw as they are from along the Sishen-Saldanha route.
We need to intensify research and increase investment in mineral beneficiation.
In this regard, the proposed creation of a smelter-refinery complex in Gamsberg will create opportunities for value-adding zinc beneficiation in the Khai-Ma municipality and beyond.
The investments that have already been made here, when taken together with the anticipated investments in further phases, will improve South Africa's position as a global player in zinc production.
Most importantly, this investment will change the economic landscape of this region and will contribute to much-needed social development.
Government is committed to partner with Vedanta in realising the benefits of this investment for the company, its employees and surrounding communities.
We will establish an intergovernmental task team led by the Department of Trade and Industry to explore the possibility of establishing a special economic zone and unlock further investment on projects in areas such as sulphuric acid and fertiliser.
The task team would also work with all three spheres of government and state owned entities on developing infrastructure, accelerating skills development and empowerment, and consolidating economic development in the Northern Cape.
Given that the Fourth Industrial Revolution is set to significantly alter the way the mining sector operates, it is noteworthy that Gamsberg is considered one of the most digitally advanced mines in South Africa.
We are confident that Vedanta – as a partner in our efforts for inclusive growth – will use technology not to replace human beings with machines but to fundamentally improve efficiency, guarantee safety, produce a skilled workforce and, most importantly, preserve jobs.
Vedanta is well-poised to become a pioneer in the mining industry's efforts to harness technological progress not only to survive, but also to thrive.
During the recent Mining Indaba, I outlined ten value-creating principles for a more modern mining industry.
For mining to be sustainable in the long-term, it is crucial that companies prioritise the contribution of mining operations to the communities in which they operate.
Investing in the workforce, in youth and women, education and training, and partnering with government in improving local infrastructure, are some of the key defining features of a mining company that demonstrates good corporate citizenship.
We commend Vedanta on the R44 million it spent last year on training and social projects aimed at skills development, health, enterprise development and municipal infrastructure support.
This was accompanied by R77.5 million spent on local enterprises.
This is important to report on because it demonstrates that while there are undeniable challenges in some mining communities, there is important work taking place to addres them.
The recent Mining Indaba placed communities at the centre of the sustainable development and growth of the mining industry.
The new Mining Charter enjoins mining companies to work with communities where they operate to address the social and environmental challenges facing such communities.
They must consult with community leaders and stakeholders to identify specific developmental priorities and develop social and labour plans which speak to the needs of the community.
The operation that we are opening today gives us confidence that the future of mining is bright.
It gives us confidence that we can develop an industry that benefits communities as much as it produces returns for shareholders.
We are committed to working with investors to ensure that the industry grows sustainably, is transformed and competitive, and makes a substantial contribution to an inclusive and growing economy.
I thank you.