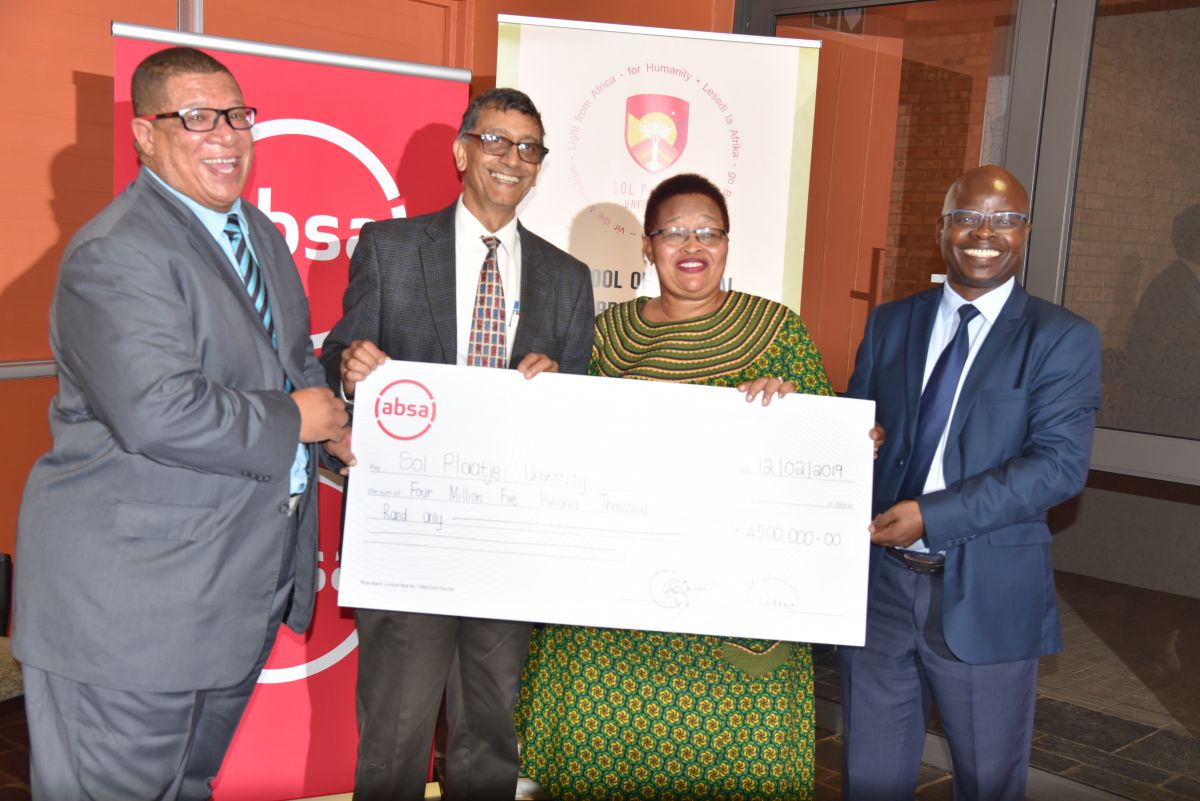 Programme Director, Professor Baxen
Members of the Executive Council present
Vice Chancellor, Professor Ballim and your staff present
Representative of ABSA, Mr Rodda Ontong
Ladies and gentlemen
I am greatly pleased and honoured to join you this morning on this momentous occasion. A few years ago on the morning of 19 September 2013, I was privileged to join the then Minister for Higher Education, Mr Blade Nzimande and a few other dignitaries at the launch of this university; a dream come true for all the people of the Northern Cape and beyond. I remember stating that, "Today, we are also celebrating for another important reason - In the course of the overall development of our country and province, the shared and common goals of all of us require a common approach and 'battle'. We are grateful that we have had committed partners in the realization of this project in some of South Africa's leading business entities. Our country and province need more of these types of partners to achieve our desired goals of a growing and prosperous South Africa."
Today a few years on and many successes later we still have partners that share our vision for a brighter and prosperous Province for the people of the Northern Cape. At the outset I therefore wish to take this opportunity on behalf of the Northern Cape Provincial Executive to applaud ABSA for this noble initiative. This says to us that you have heeded the call of Government that collectively, we need to do everything in our power to empower our communities especially our youth with practical skills that will bring them a step closer to creating a sustainable livelihood for themselves.
The energy, skills, and aspirations of our young people are invaluable assets that no society can afford to waste. Therefore, youth development remains a key priority for government. This due to the fact, that young people are disproportionately affected by the challenges of unemployment, poverty and inequality. We are therefore pleased to count ABSA as one of our development partners that share our vision for youth development.
The youth of our country are the most precious resource. Without their energy, creativity and youthfulness, there can be no future. Therefore, cognisant of this fact, the development of young people will always remain a key priority of this Administration. With the Sol Plaatjie University and our urban and rural Technical Vocational and Education Training Colleges we are raising the skills base of especially our youth to respond effectively to the social needs of our community.
Ladies and gentlemen, it is very clear that we are entering a new socio-economic landscape in the Province where we need to move away from a solely profit driven economy demanding mainly unskilled labour to a people driven economy where we invest in our youth to become highly skilled in order to take advantage of new technologies to drive the rural industrialisation agenda. The Province has become internationally known due to its sparkling diamonds and colonial legacy but it is now time to lead us into the new trajectory of the 4th Industrial Revolution, where we can set the pace in the race for achieving economic transformation and a better life for all in this beautiful Province, the Northern Cape. As Government we have been entrusted to lead and we can only do so through the empowering of our youth.
This morning however I want to remind us that we must bear in mind that it remains our collective responsibility as government, private sector and civil society to address the challenges facing our young people. For this to happen, we must work together to create community infrastructure that will respond to the developmental challenges of our young people. Many of our young people leave the province in search of developmental opportunities. Our role is therefore to ensure that we create space and opportunity for young people to develop their untapped potential. Given this, we will all have to scale up our efforts and programmes aimed at young people.
The best way to set our youth on a developmental path is through the aspect of skills development; where the young people of this Province shall be exposed to educational and training opportunities aligned to the needs of new technologies and innovations and new industries such as Renewable Energy and the Space (e.g. Square Kilometre Array (SKA) and MeerKAT) and Knowledge Economies. The establishment of this University in the Province is an example of such transformatory initiatives. The SPU is a critical knowledge partner in the Province which by way of this Data Science Programme will equip the youth for industries in the Knowledge Economy; specifically SKA. We therefore applaud and celebrate with the University every effort of financial support in the form of study loans and bursaries to deserving and needy students in order for them to grasp these opportunities.
Today we stand here with firstly the University management and its students as well as our developmental partner, ABSA, to share in your joy and pride at this achievement. The onus however is on the ambassadors of this university, its students, to enter and prepare themselves for a bright future filled with promise and endless possibilities. These sentiments are echoed by our revered former President and Father of the Nation, Tata Madiba when he stated, "To the youth of today, I also have a wish to make: be the scriptwriters of your destiny and feature yourselves as stars that showed the way towards a brighter future."
I will never forget that cloudy, dusty morning in September 2013 when we knew that the Northern Cape was rising and that there was no question that we are on the move. This was mainly driven by the fact that we knew that the establishment of a university affords our children the opportunity to be the masters of their own destiny because they get to decide what kind of future they want.
Today we are grateful to be celebrating once again and we earnestly believe that this investment by ABSA for the Data Science Launch will aid our search for wisdom and the information-laden intelligence that has become an indispensable part of the twenty-first century.
Allow me to thank ABSA once more and also congratulate the SPU on this initiative and wish you all the success on your future endeavours.
As a Province we remain steadfast in our resolve to improve the lives of our people through partnerships and investments as we move towards creating a prosperous society for all. We are convinced that projects of this nature will definitely assist us in our efforts to alleviate poverty and address unemployment and inequality and move this wonderful Province forward.
I thank you