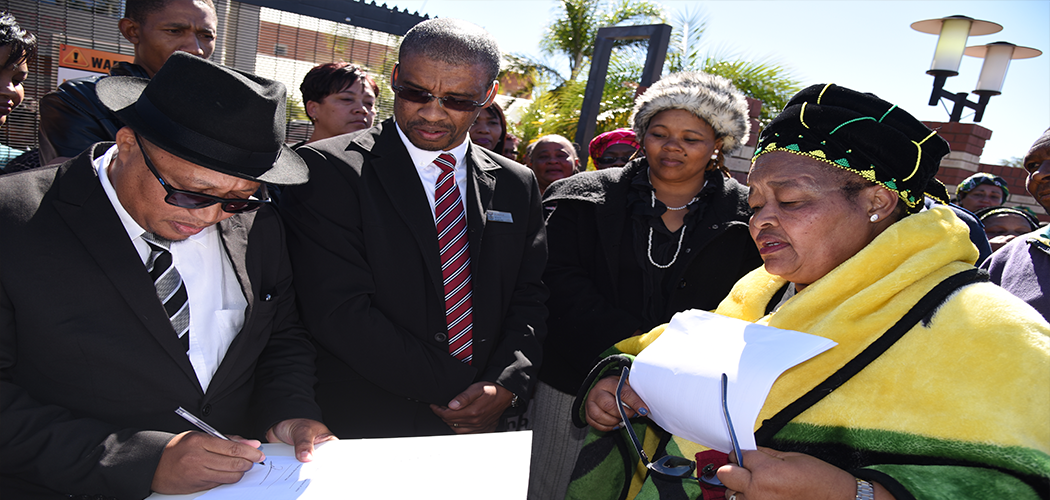 Programme Director
Members of the Executive Council present
Mayor and Councillors present
Vice President of Projects: Vedanta Zinc international – Mr Satish Kumar and senior management
General Manager of Black Mountain – Mr Andre Trytsman
Principal, educators, learners and members of the SGB
Members of the Media
Community of Khai Ma
Ladies and gentlemen
Information is power. And the access to information is one of the greatest assets a person can possess. It therefore goes without saying that I am ecstatic to be part of this grounbreaking initiative spearheaded by Vedanta Zinc International. It is part of their commitment to empower the communities within which they operate and I am confident that you will join me in expressing our gratitude to Vedanta for this community beneficiation programme. This fits in well with government's bigger project to connect all government institutions to broadband which includes all our schools by the year 2030. Through our broadband project, we will be able to deliver broadband access to 90% of the schools throughout the country by 2020 and 100% by the year 2030 in line with the National Development Plan.
Ladies and gentlemen, we are in the era of the Fourth Industrial Revolution. Technologies are emerging and affecting our lives in ways you cannot imagine. It therefore becomes very important that Government, together with private stakeholders such as Vedanta join hands to bridge the digital divide by ensuring that everyone in the country has affordable access to Information Communication Technologies, particularly our people living in the rural areas. Through this initiative I am confident that the learners of Boesmanland High School will now have access to the same educational content as a learner in a well-resourced school in the big cities such as Johannesburg. Through availing free WiFi, the school can now optimally utilise the computer lab by not only relying on textbooks but also making use of relevant content that can be made available via the internet.
Dames en here, die daarstelling van gratis internet aan ons gemeenskappe het soveel meer impak as wat ons besef. Hierdie gebaar deur Vedanta maak die wêreld oop aan ons kinders. Dit gee ons die unieke geleentheid om ons horison te verbreed en stel ons bloot aan n magdom van inligting wat ons ten voordeel van die ontwikkeling van onsself en ons gemeenskap kan gebruik.
Hierdie inisiatief bied ons ook 'n blik in die wêreld wat wyer as net Pofadder, die Noordkaap en Suid Afrika is. Dit bring so te se die wêreld tot reg voor ons deure. Oud President Nelson Mandela, wie se eeufees vieringe ons hierdie jaar gedenk, het altyd die belangrikheid van opvoeding beklemtoon en hierdie gebaar van Vedanta maak dit soveel makliker vir ons studente om hul kennis te verbreed en by te hou met die nuutste ontwikkelinge. Met die goed kom ook die sleg en is dit so dat die internet ook baie afleidend kan wees. Ek doen dus 'n beroep op julle om hierdie voordeel met groot verantwoordelikheid en omslagtigheid te gebruik.
Ek wil die breër gemeenskap aanmoedig om van die geleenthede wat toegang tot die internet bied, gebruik te maak. Dit bied jou die geleentheid om jouself te verbeter en te ontwikkel deur jou lewe te verbeter deur die krag van inligting en geleenthede te ontsluit. Dit is 'n geleentheid vir gemeenskapslede, ouers en kinders om toegang tot regeringsinligting te verkry, toegang te kry tot koerante waarin werk geadverteer word en waar leerders en studente toegang tot inligting op die internet kan kry. Hierdie fasiliteite sal 'n positiewe impak hê as om nie net die nodige akademiese ondersteuning te bied wat ons leerders moet slaag, maar ons leerders kan ook hierdie hulpbronne gebruik om na te gaan oor loopbane wat by instellings van hoër onderwys beskikbaar is, aansoek doen vir universiteitstoegang en selfs toegang tot inligting oor beurse en finansiële hulp verkry. U word nou die geleentheid gebied om u drome te vervul om dokters, wetenskaplikes, bioloë te word en selfs loopbane in inligtings kommunikasietegnologie na te streef, wat 'n skaars vaardigheid in Suid-Afrika gevind het.
Learners as I conclude, I want to encourage you- and more so the matric class of 2018 to grab these opportunities presented to you in earnest. This will empower you to fully take charge of your future and to positively contribute to the development of a greater South Africa. Government cannot succeed on its own. Contributions such as these from the private sector have the potential to double the efforts of our democracy and achieve that better life that we want for our people. And that better life is today more possible than it was yesterday, thanks to this initiative.
Once more, my profound gratitude on behalf of the Provincial Government and the people of Khai Ma for enabling our children to become part of the digital and information revolution.
I thank you