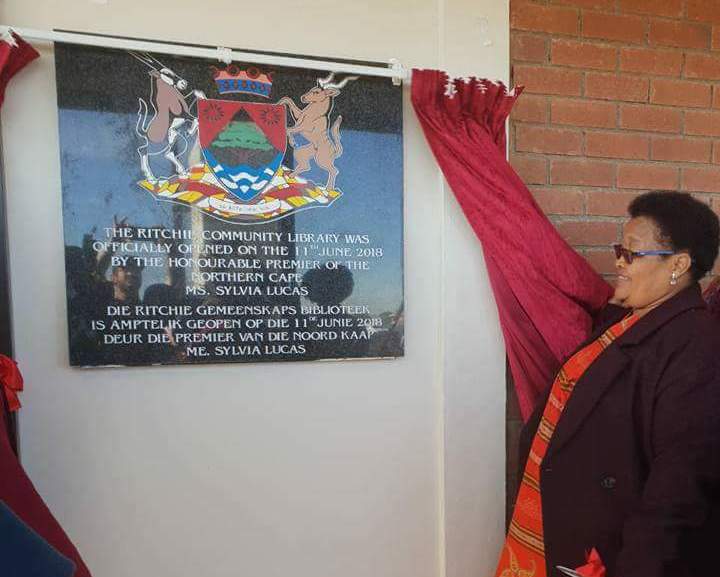 Programme Director
Members of the Executive Council
Executive Mayors and councilors present
Principals, educators and learners
Members of the SGB
Senior government officials
Community Members of Ritchie and surrounding areas
Distinguished Guests
Ladies and Gentlemen
It gives me great pleasure to join you this morning. The year 2018 has been declared a year in which we as South Africans will honour and celebrate the 100th Anniversary of Nelson Mandela. This is an opportunity presented to the humankind and the human spirit to celebrate the values and principles that this stalwart of our revolution stood for during difficult and challenging times of our National Democratic Revolution.
There could be no better tribute or celebration of President Nelson Rolihlahla Mandela's legacy that responds to a call for the people of South Africa to educate them. Madiba believed that education is the most powerful weapon which we can use to change the world.
Today we join you to officially open a learning institution, which we believe is an ideal for which Utata Nelson Mandela lived for. This library we are opening here today is thus in honour of the ideals that this great man stood for.
Ladies and Gentlemen
The dawn of democracy and freedom in 1994 was the first step of many in our journey to rebuild our nation, which was paralysed, crippled and marginalised by the discriminatory principles of colonialism and Apartheid. As we continue our journey of rebuilding and reconstructing our society, we are extremely proud of the role played thus far by the libraries' service sector in developing our communities.
The Provincial Government of the Northern Cape has found it extremely important that we gather here today to officially open the Ritchie Library. This library is currently named after the town of Ritchie. I am therefore appealing to the community members of Ritchie to meet, discuss and reach consensus on a name of an individual that represents the community of Ritchie. A name of a person whom you can relate to; a name for which you can take ownership of and the name of a person who made the people of Ritchie proud.
Ladies and Gentlemen
Naming and renaming is of utmost importance because as a Province and a country we continue to suffer from historically-induced social and linguistic inequalities where we are still commemorating street names and symbols of people who founded colonialism and Apartheid. As a Province we are therefore going to expedite the process of renaming as a matter of urgency. This is however a process that we will be expediting within the legal framework of geographical name changes. This is important for us as South Africans to reclaim our heritage and cultural identity, as well as honouring our heroes and heroines who fought the liberation of this country which we are all enjoying today.
Ladies and Gentlemen
A library is an institution built to strengthen, enhance and develop you by seeking to improve your lives by unlocking the power of information and opportunity. Libraries are the nucleus of communities where community members, parents and children gain access to government information, gain access to newspapers wherein jobs are advertised and where learners and students can gain access to information on the internet.
Libraries are also places that must be open to everybody, irrespective of race, colour or creed. It is a place where social cohesion and nation building can be enhanced and promoted.
Ladies and gentlemen, as the Provincial Government of the Northern Cape a collective decision was taken that we build all new libraries in close proximity to schools. It is very important to alleviate the pressing need for information to learners, especially disadvantaged communities. The learners from the surrounding schools will therefore benefit from these facilities. It is a common fact that our poor communities do not have the financial resources to buy computers and other information material, but they have a pressing need to have access to information. It is access to the information that remains key to personal development and improvement of social, economic, technical and scientific skills that are needed in the labour market.
For many communities in South Africa, it is only public libraries which provide free access to computers and the internet. The Library we are opening here today will open the doors to free internet connectivity and technology resources to and for the less privileged communities.
Libraries store the energy that ignites the imagination. They open windows to the world for us and inspire us to explore, achieve and contribute to the improvement of our quality of life. Libraries change lives for the better. It is also important for you to know that reading and writing opens up new worlds, reveals new ideas and suggests new opportunities. Reading books should not just be used as an avenue too past time. It is an integral part of our struggle to be a free and prosperous nation.
A culture of reading will contribute towards a life-long desire to learn and develop oneself intellectually, emotionally, and culturally. We therefore need vibrant community libraries, stocked with new, relevant books across all subjects, to assist people improve their skills and to prepare themselves better for their professions.
I therefore urge librarians to establish activities like book clubs and debate clubs which will instill the culture of reading in this community and encourage the community to take ownership of different activities in this library.
The construction of this library indeed contributes to our vision of a socially inclusive, creative, active and connected Northern Cape. It creates a society in which all afforded the opportunity to personally empower themselves, contributes to lifelong learning, and provides for cultural enrichment and the prospects of economic prosperity.
I trust that this llibrary will become a beacon of hope to all who make use of it. By building this library we are merely laying the foundation for a thriving reading culture. Please also remember that buildings do not go to the people, people must come to the buildings. I encourage the community to look after this library and guard jealously against anything that might damage or vandalise it.
Ladies and Gentlemen
Allow me to quote the words of a wise man who we are honouring this year, our former President, the late Dr. Nelson Mandela who once said "Education is the most powerful weapon which you can use to change the world".
It was also this great son of the soil who went on to say that "It it through education that a daughter of a peasant can become a doctor, that the son of a mineworker can become head of the mine, that a child of a farm worker can become President of a great nation"
It is important to note that I have deliberately quoted uTata Mandela on the importance of education, as libraries plays a fundamental and crucial role in the development of our communities with regards to your education.
In conclusion, I wish to thank the Ritchie Youth Development NGO for donating books to the library. As government we cannot do it alone and therefore we are thankful that you have joined hands with us to instill a culture of reading and writing in the broader community of Ritchie.
I am pleading with the parents and educators to play a more active role in encouraging learners to make use of the libraries and make a more concerted effort to ensure that this facility benefits the community.
Working together we can do more to inculcate a culture of reading in our youth.
I thank you.