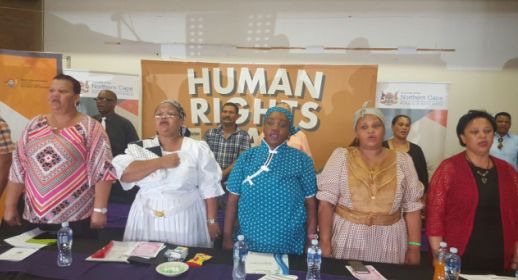 Program Direkteur
Agbare Lede van die Uitvoerende Raad
Agbare Lede van die Provinsiale
Agbare Burgermeesters en Raadslede
Familie van wyle Ouma /Gâ Hais
Geestelike leiers
Staatsamptenare
Lede van die media
Dames en Here
Vandag is 'n viering van dít wat ons as 'n land tot dusver bereik het, en 'n sombere herinnering aan diegene wat hul lewens opgeoffer het sodat ons vry kan wees. Die dag word uitgesonder om Suid Afrikaners te herinner aan ons oorgang van apartheid na 'n grondwetlike demokrasie wat gegrond is op die waardes van menswaardigheid, die behaling van gelykheid, van menseregte en vryhede, asook nie-rassigheid en nie-seksisme.
Almal van ons hier teenwoordig is vertroud met die term of begrip "Menseregte". Die vraag is egter of jy werklik tyd spandeer het om presies te behels wat dit is om die regte van 'n ander mens te respek en te eer.
Dames en here, die reg op waardigheid, regverdige en gelyke behandeling word nie net gewaarborg deur ons unieke Grondwet nie, maar dit word ook aan ons beveel deur God, die Almagtige, dat ons mekaar moet behandel met waardigheid, wedersydse respek en deernis. Dit, my medemens, moet ons vertrekpunt wees wanneer ons praat van Menseregte
Hierdie regte en gepaardgaande vryhede wat ons vandag as vanselfsprekend aanvaar het glad nie maklik gekom nie. Dit is bereik deur 'n lang stryd van teenstand teen 'n onregverdige en onmenslike stelsel genaamd apartheid. Aan die voorfront van hierdie stryd was die magtige African National Congress wat volslae geglo het dat hierdie land, Suid Afrika, aan almal behoort wat daarin woon, werk en bestaan. Dit was 'n stryd wat ten duurste verwesenlik is. En ons voorouers, wit, swart, bruin en Indiër het skouer aan skouer baklei, en met hul lewe betaal vir die regte van ieder en elk in hierdie land, wat soveel belofte inhou.
Hierdie is Suid Afrika, 'n land waar almal, ongeag ons kleur, sosiale aansien, geloofsoortuigings, fisiese en geestelike toestand gelyk is. Dit is wat ons demokrasie en Grondwet waarborg. En dit is 'n belofte en eed wat die ANC aan al ons mense gemaak het en sal behou.
Ladies and gentlemen, this year's celebration of the triumph of the human spirit against an unjust system is dedicated to the life and roles played by our stalwarts Oliver Reginald Tambo and Steve Bantu Biko in the liberation of our people. For this reason we are commemorating Human Rights day under the theme, "The year of OR Tambo: unity in action in advancing human rights."
Ladies and gentlemen, Among those who fought relentlessly for the freedom we enjoy today, was the longest serving president in the history of the ANC, namely Oliver Reginald Kaizana Tambo. It is almost incomprehensible to imagine the freedom we enjoy today without the efforts OR Tambo made years ago. One of his remarkable contributions as the ANC's Deputy President was as head of the ANC's Constitutional Commission where he recommended that more constitutional recognition be given to the ANC Women's League and the ANC Youth League and he further endorsed non-racialism and the Freedom Charter. The constitutional revision of the ANC became known as the Tambo Constitution. This entrenched the culture of progressive thinking and open-mindedness within the movement.
After the banning of the ANC and the Pan Africanist Congress (PAC) in the early 1960s, OR Tambo had to forge a powerful global campaign in exile to galvanise the world against apartheid and colonial rule in South Africa.
Dames en Here, Tambo, wat 'n prokureur van beroep was, was 'n sterk voorstander van 'n inklusiewe Afrika-nasionalisme as 'n bevrydingsmag. Hy was 'n saggeaarde, vrygewige mens en sy optrede het van beginselvastheid en bedagsaamheid getuig. Hy was 'n demokraat in murg en been, wat sterk beïnvloed is deur sy Christelike oortuigings en was 'n besonder goeie luisteraar wat almal aangemoedig het om hul menings te lug. Sy leierskap was gekenmerk deur absolute integriteit.
Ladies and Gentlemen, this year also marks twenty years since the signing of our progressive Constitution. Our Constitution is hailed as one of the most progressive in the world not because of the "miracle" but it was because of the conscious efforts of leaders such as OR Tambo. The Constitution articulates the four generations of human rights that should form the foundation of an ideal society. The four generations of Human Rights are: civil- and political, socio-economic, Environmental, as well as, Gender and communication. OR Tambo was the embodiment of all these universal rights.
This year also marks 40 years since the passing of one of the gallant fighters for human rights, and the leader and founder of the Black Consciousness Movement, Steve Bantu Biko. Delivering the human rights lecture in 2014, Navi Pillay rightfully underlined that Biko informed international human rights norms and standards and played a role in the decision of the UN Security Council to ban arm sales to South Africa in November 1977.
It is for this reason that, within the realm of human rights, the Human Rights Month activities will honour the role that was played by Biko and Tambo in the fight for human rights for all, and how their values can be curated in everyday lives of South Africans to ensure that South Africa finally become a socially cohesive society as per the vision 2030 of the National Development Plan.

Dames en Here, vandag tydens hierdie vieringe is dit nodig dat ons weer moet terug kyk op ons geskiedenis al wil mense vandag die relevansie daarvan uitwis. Mense soos die Weskaapse Premier, Helen Zille wat hulle wil voordoen as beskermers van menseregte en demokrasie, maar nog steeds voel dat Suid Afrika 'n beter plek was onder kolonialisme. Ons sal ons nie van stryd laat bring deur hierdie verdedigers van apartheid en sal aanhou bou op die voorbeeld wat vir ons daar gestel is deur leiers soos Oliver Tambo, Steve Biko, Nelson Mandela, Walter Sisulu, Achmat Kathrada,Govan Mbeki, Hector Peterson, Albert Luthuli, Lilian Ngoyi, en al die vryheidsvegters vir Menseregte en gelyke behandeling.
Voor 1994, was Menseregte dag bekend as Sharpville dag. Dit is toegeskryf aan die Sharpeville-slagting wat in die dorp van Sharpville plaasgevind op 21 Maart 1960. Op hierdie noodlottige dag in 1960, was die gebeure beplan in baie dele van die land vir mense om te protesteer teen die paswette van daardie tyd.
Baie van ons wat hier teenwoordig is kan met hartseer onthou hoe vernederend dit was om 'n dompas te dra wat jy oral moes wys. Ons Vryheid tot beweging en assosiasie is ten sterkste ingeperk. Ons hele geskiedenis was vervat in hierdie dompas. Om soos derde klas burgerlikes behandel te word het mense genoodsaak om in teenstand van hierdie dompas stelsel te staan. Die gevolg was dat hierdie mense, wat elk 'n held en vryheidsvegter in eie reg is, opgeruk het na die polisie kantoor in Sharpville om hul teenstand teen die dra van en die bestaan van die dompas te wys.
Wat hierna gevolg het sal altyd 'n klad op ons geskiedenis wees. Dit is 'n gebeurtenis waaroor die vorige regering vir altyd hul koppe in skaamte sal sak. Op daardie dag het ses en neentig mense, vaders, moeders en kinders wat vreedsaam protesteer het, hul lewens in 'n oogwink verloor. Nooit, maar nooit sal dus ons vergeet nie.
Ladies and gentlemen, these innocent protesters were merely demanding their human rights in the country of their birth. The Sharpville massacre mobilized the international community to take action against the apartheid government. The massacre laid bare not only the cruel and barbaric aspect of apartheid but the clear systematic violation of human rights of the majority African people in South Africa. Soon after this day the United Nations declared Apartheid an act against Humanity.
This democratic government declared 21 March as Human Rights Day in South Africa. The entire month of March is commemorated as Human Rights Month in order to remind us about the sacrifices that accompanied the struggle for liberation and also to celebrate the achievement of democracy in South Africa.
The renaming of Sharpeville day was in line with the imperatives of a new and democratic government as espoused by our Constitution and in particular the Bill of Rights. The value addition of this day to all South Africans is to emphasize the ANC Government's commitment in ensuring that every person who resides in South Africa enjoys equal rights.
Significant gains have been made in the promotion, development and protection of human rights since the advent of our democracy, we however still have to do more to ensure that human dignity, equality and freedom is permanently entrenched in the lives of our people.
Ladies and gentlemen, as we traverse this journey of the protection of human rights and dignity, we also need to spare a thought today for the family of Ouma /Gâ Hais as we honour her life today with this reburial ceremony.
As a government, we will continue to embark on reburial programmes such as these in order to ensure that we close another painful chapter in our country's history of Apartheid and colonial subjugation, racism and oppression. We will continue to correct the historic injustices and restore the human dignity by ensuring that our ancestors receive a dignified burial and the wounds created by the then Apartheid regime are closed and healed.
Die verhaal van Ouma /Gâ Hais is n treurige en vernederende een. Dit is n klassieke geval van hoe ons as Swart mense van ons waardigheid ontneem is. Ouma was n mens wat n siel gehad het. Ouma het n hart gehad waar deur dieselfde bloed as enige ander mens gepomp het. Sy het lief gehad, geleef, was iemand se moeder en haarself 'n kind van n moeder en vader.

En tog is sy soos 'n kommoditeit behandel, iets wat geen waarde gehad het nie. Iets wat kon verneder word en van alle menswaardigheid ontneem kon word sonder geen gevoel nie. Nie eens in haar dood is Ouma toegelaat om te rus en is sy tot in haar laaste rusplek versteur en verneder. Dit is n hartseer verhaal soos ek aangedui het en een van soveel wat ons mense onderworpe is aan. En dan het die verkragters van ons menseregte die vermetelheid gehad om hul genadelose aksies in christelike doktrinie te regverdig. Nooit maar nooit het God se woord verklaar dat een volk of mens verhewe is bo 'n ander en die reg het om dit wat Hy geskape het te verneder en van all waardigheid te ontneem nie. Vandag begrawe ons gedeeltes van Ouma maar ons weet dat waar ouma nou op ons afkyk is ouma heel en het vrede. Sy is vandag vry en verlos van alle kwade en afskuwelike dade teen haar gepleeg in die naam van wetenskap. Rus in vrede ouma. U is by die huis en verewig sal u naam onthou word en aan ons 'n herinnering wees van wat ons onderworpe was.
Dames en Here, dit is net deur te praat oor ons goeie en slegte ervarings, wat ons sal help om die sosiale verdeeldheid in ons gemeenskappe wat vandag nog bestaan aan te spreek. Ons stories sal dit moontlik maak om te verstaan dat hoewel ons onderskeie reise na vryheid dalk anders gewees het, is ons verenig in ons liefde vir hierdie land en deel van die passie om hierdie land vorentoe te beweeg. Dit sal dit moontlik maak om te besef dat ons almal aan dieselfde basiese stel waardes soos wedersydse respek, demokrasie, vryheid, gelykheid en geregtigheid gebind word.
Daar is geen kwessie daaraan dat ons land 'n lang pad kom. Ons kom uit 'n era waar jou vel pigmentasie of kleur die kwaliteit van jou lewe bepaal het. Ons kom uit 'n era waar 'n mens se vel kleur bepaal het met wie jy mag vriende wees, waar jou vel kleur selfs bepaal het waar jy mag woon en selfs jou lot bepaal het. Hierdie is als die wrede waarheid van ons verlede en daarom moet ons met verantwoordelikheid hierdie vryheid van ons bewaar.
This year as we mark Human Rights Day, twenty years after signing our democratic Constitution; we should indeed celebrate what we have achieved since then. This year's commemoration is thus being used to raise awareness of racism and explore ways in which we can eradicate it. We should thus be reminded of the words of Oliver Tambo, as he once remarked, that, "Using the power you derive from the discovery of the truth about racism in South Africa, you will help us to remake our part of the world into a corner of the globe on which all - of which all of humanity can be proud.
Ladies and Gentlemen, we cannot afford to gloss over our differences as a multi-cultural society and the legacy of our history of segregation which is still in existence in our society. Our homes, schools, churches and workplaces continue to bear testimony to this. The question of racism must invariably remain in the public limelight so that South Africans can engage with it in public forums.
Op hierdie geskiedkundige dag, moet ons as die mense van hierdie Provinsie onsself verbind tot 'n samelewing vry van haat en diskriminasie. Vandag verklaar ons dat daar geen plek vir rassisme in ons lewens is nie. Ons verklaar as een nasie dat ons mekaar sal eer, respek en waarde heg aan ons medemens. Ons is een nasie, en as een nasie sal ons skouer aan skouer werk om die provinsie en land vorentoe te beweeg.
Laat hierdie dag nie net nog 'n openbare vakansiedag is nie, maar in plaas daarvan laat ons stilstaan en besin oor hoe ver ons gekom het, wat meer moet gedoen word en hoe dit bereik kan word deur middel van algemene waardigheid en respek vir die regte van almal.

Ek dank u.