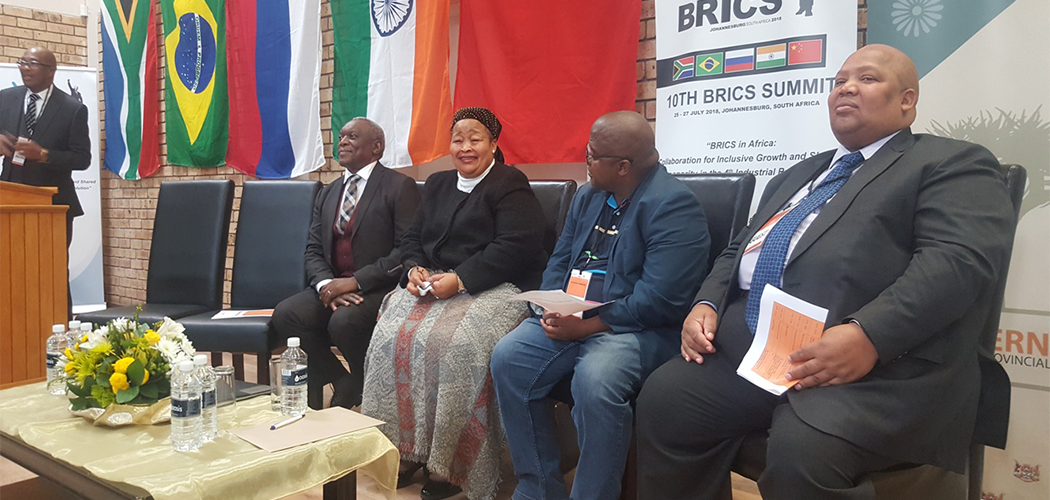 President CM Ramaphosa is hosting the 10th BRICS Summit from in Johannesburg from 25 – 27 July 2018.
The first BRICS summit took place in 2009 in the Russian Federation. South Africa was invited in December 2010 to join BRICS, former President JG Zuma attended the BRICS summit in March 2011 hosted by China.
South Africa's membership of the BRICS forum has become a vital element if its global economic strategy and is viewed as a catalyst and enabling tool for pursuit and achievement of South Africa's foreign policy priorities including the promotion of the African agenda, global reforms and South to South cooperation.
As part of the effort to promote BRICS in South Africa, Ministerial Road show was held in all provinces. The Northern Cape held their event on 19 July 2018 in Upington. The ministerial roadshow was addressed by Minister for Telecommunication and Postal Services Dr Siyabonga Cwele and Premier Sylvia Lucas.
The purpose of the BRICS Ministerial Roadshows was to create awareness on the significance of South Africa's participation in BRICS and to highlight and emphasise the message " Building a Better Africa and a Better World" to communicate the South African Government political commitment to participate in the development of the continent.
The Northern Cape decided to host a stakeholder dialogue with all sectors in society. This dialogue focused on the role of the Northern Cape in BRICS and how the province stands to benefit. Leaders from civil society, organise labour, organise student formation, members of the provincial legislature, organise business, academia, traditional leader and government leaders was invited to this dialogue. This summit proved to be a highly successful and informative on opportunities presented by the 4th Industrial Revolution.
---
Contact Details
Monwabisi Nkompela
Communication :Chief Director
053 838 2928
This email address is being protected from spambots. You need JavaScript enabled to view it.