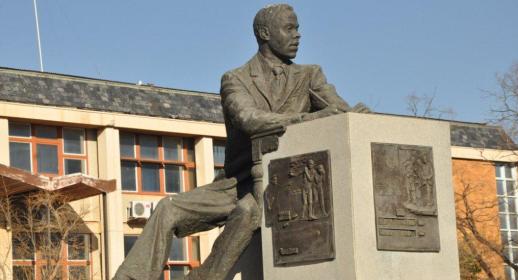 The current administration under the stewardship of President JZ Zuma made a profound commitment to the people of the Northern Cape that the main focus of this current term of the administration is to establish a university in the province. On Thursday 25 July 2013 the President announced the name of the university and the interim council. The university in the Northern Cape will be named Sol Plaatje University.
The name carries great significance for the country but particular for the liberation movement. Sol Plaatje was the first General Secretary of the African National Congress (ANC) and an astute native intellectual. The Sol Plaatje University will over a 10 year development period accommodate 5000 full time student at the main campus in Kimberley. The President also announced that the university will be a multi campus university.  The Sol Plaatje University will focus on heritage studies, including interconnected academic fields such as museum management, archaeology, indigenous languages, and restoration architecture.
The following key mile stones have been achieved since the initial announcement:
In July 2010 two Task Teams were appointed to do feasibility reports and explore models for establishing the new universities. They submitted reports in September 2011.
On 5 July 2012, I announced that the new universities for Mpumalanga and the Northern Cape will be located on selected sites in Nelspruit and Kimberley.
In September 2012, National Treasury confirmed  an allocation of over two billion rand for the 2013/14 – 2015/16 Medium Term Expenditure Framework period;
In December 2012, the public was invited to suggest names for each university and to nominate members of the Interim Councils;
In January, 2013, preliminary academic programmes were established for each institution and a range of partnerships have been formed with established universities to support academic programme development and delivery;
In March this year, the Minister of Higher Education and Training, the Premiers of the two provinces and the Minister of Public Works signed a Record of Intention to Facilitate the Rapid Establishment of the New University and the Transfer and Development of Publicly Owned Land.
The interim council for the Sol Plaatje University will be:
Ms Jennifer Glennie as Chairperson and as members,
Mr Abel Madonsela
Mr Maruping Lekwene
Dr Yvonne Muthien
Prof Vishnu Padayachee.
In conclusion the President said "All successful countries in the world succeeded because they invested in education and skills development. The fruits of our investments will become visible soon, when these young people graduate and take our country and the economy to greater heights."

This article was released by the Northern Cape Provincial Government